A low FODMAP fish curry doesn't sound right, or does it? Anything is possible if we want it badly enough. This is the true joy of cooking, the challenges, and the eventual successes.
FODMAP is an acronym, derived from "Fermentable Oligo-, Di-, Mono-saccharides And Polyols". They are short chain carbohydrates that are poorly absorbed in the small intestine.
This diet may have been doctor-recommended for some of you who are suffering from IBS, and other stomach issues. Trust me when I say life is going to get adventurous in the kitchen, for the first few weeks anyways, then you will get into the flow of creating.
Any fish will work for this fish curry recipe, wild or farmed. My absolute favourite is Steelhead trout. Because of the milder and slightly sweet flavour of the trout it will absorb the spicy-tangy sauce quite easily, while its higher fat content works well for a longer simmer.
If you would like another low FODMAP fish recipe, please try this Lime Salmon Recipe on our blog.
BC Steelhead is a Certified Ocean Wise fish from Lois Lake, BC. Lois Lake Steelhead is the result of the ideal combination of healthy broodstock, clean waters and carefully selected feed that meets the nutritional needs of our fish. Our Lois Lake Steelhead conforms to the United Nations Food and Agriculture Organization's Code of Conduct.
This fish curry is healthy, low FODMAP, and gluten-free. Go ahead and enjoy this tangy curry that is made without chilies, fresh garlic, and onions. I promise, you will love it.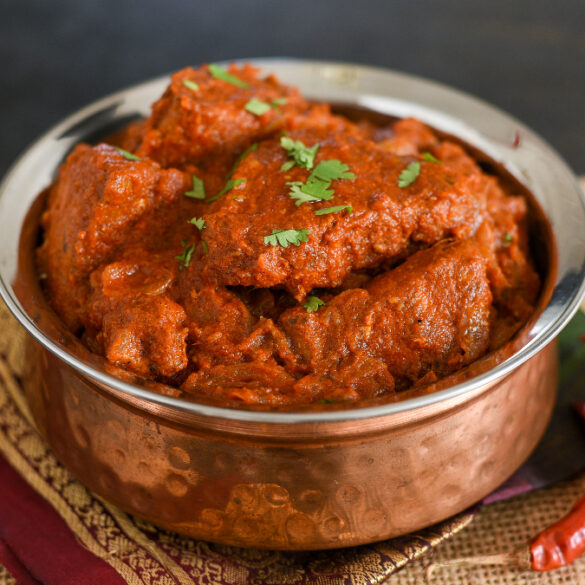 Ingredients
4 fillets Steelhead trout, or any fish of your choice (500 grams total)

Salt and pepper to taste

½ cup garlic infused oil

1 thumb-sized piece of fresh ginger, grated

1 thumb-sized piece of Turmeric, grated

1 teaspoon Garam Masala

1 teaspoon ground cumin

½ teaspoon ground coriander

1 teaspoon ground black pepper

1 small Kyknos tin tomato paste (62 ml)

2 large tomatoes, finely diced

2 large potatoes, quartered

1 small eggplant, cut into 8 discs

2 cups water

½ cup Greek yogurt

1 teaspoon white vinegar (if needed)

¼ cup finely chopped stalks of green onions, for garnishing
Instructions
Sprinkle some of the salt and pepper on the fish and set aside.

Heat the garlic-infused olive oil and add all the dry spices, Garam Masala, cumin, coriander and black pepper, at once, roast for 15 seconds.

Immediately add the tomato paste and Sautee for 1 minute, add the diced tomatoes, grated turmeric and ginger and continue to stir and sauté for another 3 minutes until it is a thick liquid-y paste.

Toss in the potatoes and stir to coat well.

Pour in the water and vinegar, keep stirring until the sauce is well mixed.

Place the eggplant discs into the sauce, cover and continue cooking for 12 minutes until the vegetable are halfway done.

Gently place the fish into the simmering curry, spoon the sauce over the fillets to submerge them. Cover and let it simmer for 12 minutes.

Remove from the heat. Remove the cooked fish and set aside.

Stir the yogurt into the curry, stir gently but mix it well until it has a thick curry consistency.

Replace the cooked fish into the curry pot, and set aside for service.

Serve with basmati rice sprinkled with the green onions, and a side of cucumbers and tomatoes slices.
Notes
This fish curry keeps really well in the fridge for 2-3 days.