It is Balanjay Choka aka roasted eggplant season right now, in fact it starts in July and keeps on going until late September.
There are many ways to use this gorgeous nightshade vegetable, but this recipe is my favourite, so when the eggplant season rolls around I think it is solely for this recipe. But, I will be posting at least another 6 recipes that is unique to places I have been.
I have this renewed interest in Guyanese food, mainly because I recently visited my family in Chicago and I was fascinated by how meticulous my sister was in her cooking. That was the moment when I realised that I do love Guyanese food…just the way my mom and sister does it. They are methodical, their kitchen is pristine, it is almost like watching a tea ceremony when they cook. It is a ritual, a holy moment to cherish.
For me, I have realised over the years, cooking is not a necessity, it is a passion that must be delved into. When I cook, I want it to be meaningful – from shopping for the ingredients to prepping, to the final presentation. And the Amen comes when I hear no words, just little moans of pleasure.
After a couple of weeks spent in Chicago, I returned ready to explore my childhood foods. Hence this Balanjay Choka AKA Roasted Eggplants in most other cultures that celebrate eggplants.
Finding the perfect ingredients is easy when you live in Vancouver. Every Sunday morning during the summer at the Kitsilano Farmers market, one can find the most delicious of organically grown foods. Not mass-produced organics that is devastating to the environment, but sustainable grown eggplants like these beauts. The truth is, fruits and vegetables grown right here in BC's fertile soil, under natural sun, and watered with lots of rain is incredible. The reason we are a culinary capital is because of our locally grown food and the flavours they impart in every type of cuisine.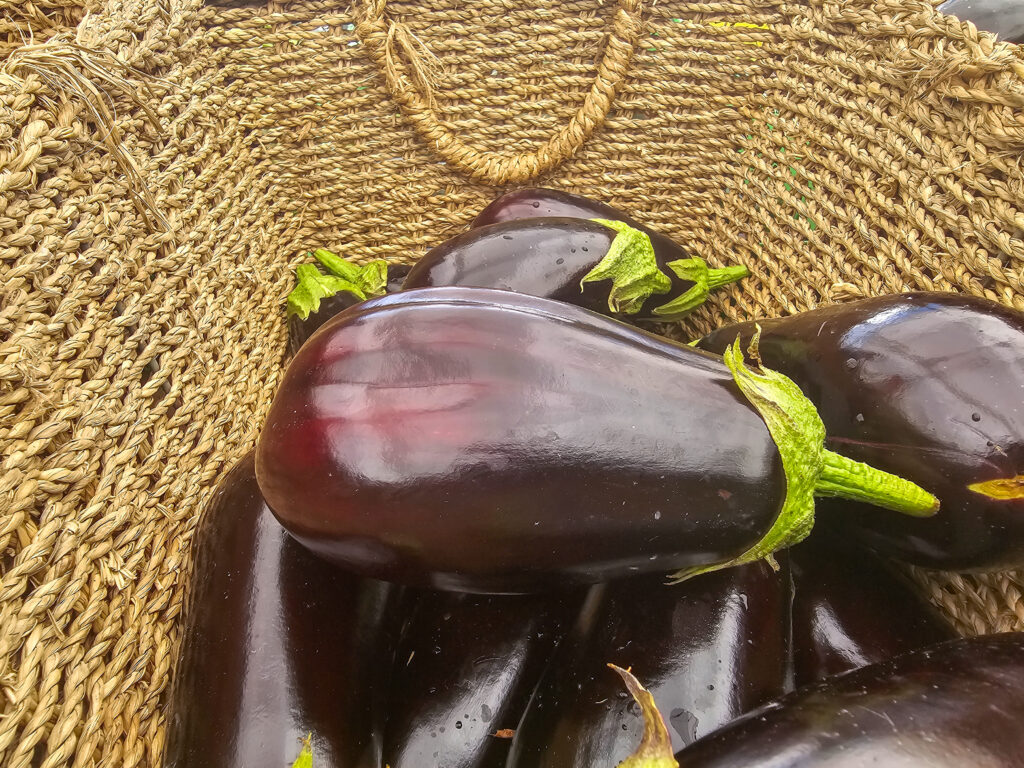 Our farmers range from 3rd generation to 1st generation here in BC. So many are willing to take up the mantle of growing food for us. Many sacrifices are made to care for the land and the animals, to nurture and raise up good food for all and sundry.
And how we appreciate you farmers, you beautiful human beings toiling to bring us delicious, clean, amazing food. Thank you.
At the Kits market there is a farmer with ropes of grey dreadlocks who never wear shoes, he seems to be grown from the soil, like he has been so long a farmer, he is starting to become at one with nature.. A wizened white man with a big smile for everyone. His garlic is the best, his hot peppers are fantastic too. In another post I will talk about the farmers and their products. But for now, know that I used the best onions, garlic, tomatoes, eggplants, olive oil and Vancouver Island Sea salt, along with one beautiful Wiri-wiri pepper from Guyana.
Enjoy an authentic Balanjay Choka with homemade Guyanese roti, or with rice and fried snapper (recipes coming soon!). What the heck, buy some pita or make some Guyanese Bakes and go to town in the meantime.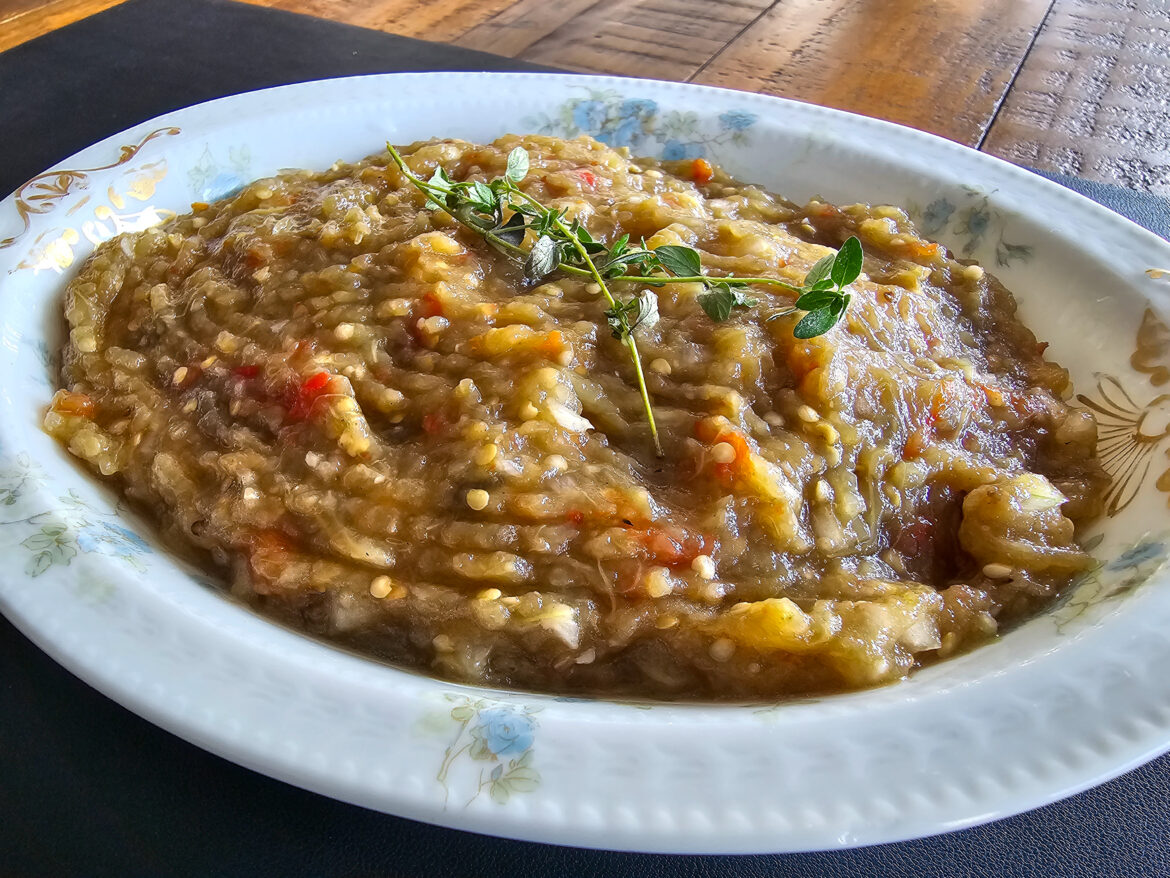 Ingredients
3 medium-sized firm eggplants 3 cloves garlic, thinly sliced 1 large tomato 1 small onion 1 Wiri-wiri pepper (or a Thai chili will do in a pinch) Salt, to taste 2 tablespoons Olive oil, for finishing
Instructions
Fire up the grill and preheat it to high. Once hot, reduce the heat to medium. With a sharp knife, randomly pierce the eggplants in various places. Stuff thin slices of garlic deep into the pierced areas. This will infuse the eggplants with that roasted garlic flavour during grilling. Place the prepared eggplants directly on the grill. Close the grill lid and allow them to roast. Check periodically and flip the eggplants as needed. Roast until the eggplants are caved in upon themselves and the skin is purple, wrinkly, and fragrant (approximately 20-30 minutes). While the eggplants are roasting, place the tomato on the grill. Close the lid and let it roast until the skin blisters and the tomato is softened. As the eggplants cool slightly, mince the onion and Wiri-wiri pepper (or Thai chilli) together to create a flavourful mixture. Slice each roasted eggplant open and carefully scrape out the flesh and roasted garlic into a bowl. Discard the stems and burnt peels. Mash the eggplant flesh and garlic together until you achieve a smooth and silky texture. Retrieve the roasted tomato from the grill and let it cool. Once cooled, gently remove the skin and discard it. Add the warm tomato, minced onions, and pepper mixture to the mashed eggplant. Mix well to combine, creating a silky and delicious mixture. Season the puree with salt to taste and drizzle with olive oil. Mix thoroughly to incorporate all the flavours.
Notes
Notes: Balanjay Choka is delicious when served with homemade Guyanese roti or alongside rice and fried snapper.
You can also enjoy it with pita bread if you can't wait to try it with the traditional accompaniments.