Filoti, Naxos, is the only place in the world that makes me feel as free as a soaring eagle that has come home to rest, there to be welcomed back with wide open arms.
After a 3-day trip of cancelled flights, due to bad weather in Athens, Greece, I made the 20 minutes' flight to Naxos. A flight from Athens to Naxos takes about 20 to 30 minutes, the ferry (Art of the Aegean Sea) takes about 5 hours, whichever way you choose to travel to get there, you will love the journey.
Naxos is a Greek island on the Aegean sea and the largest of the Cyclades. It was the centre of archaic Cycladic culture. Today, the people of Filoti, Naxos, say it is the center of the world.
My heart sang as we touched down on the island. Naxos has been pulling at my heartstrings ever since the very first time I visited. I know in my core, that one day in the midst of a midlife moment, I will grab a backpack and move to Filoti, Naxos.
I had to edit a novel I had written a long time ago that had been put aside for another day. The manuscript was shelved for 8 years but at last, each book has its time in the eyes of its author. Bones of our Past is a book about the sometimes fractured, but always amazing relationship amongst women. The women in Bones of our Past are multi-faceted human beings, and yet sometimes one-dimensional in what they believe is expected of them. They are full of joys and pain, and revelations…I had to go somewhere beautiful, light, and inspiring in order to bury myself in such a dark, yet uplifting novel.
No place in the world makes me feel as free, like a soaring eagle, as I do in Filoti, Naxos. This place is like mine very own secret, a place to be awed, to heal, and most of all to create.
I chose my accommodations at Giannakis Filoxenia Hotel in the heart of Filoti, months before my arrival. I liked the looks of it, and the honesty of their marketing.
I wanted somewhere quiet, preferably close to a bakery, and with many tavernas in the vicinity to choose from..ideally a place in the square…but quiet.
Somewhere with a view, really, I wanted a place where I could be whisked away just from looking out the window.
Upon arrival, a young woman with the kindest smile greeted me. She was very professional and a bit shy almost, but I quickly realised the shyness was her charm, her gentle welcome. Meet Katerina, one of the owners, whose vision transformed a neglected space into beautiful rooms for guests to enjoy the Filoti experience.
Giannakis Filoxenia Hotel was not what I expected, and so much more than I expected. The unique "lobby" made me feel very welcome. There was no clacking of computers, nor dull music, nor over-bright indoor lights and plants, none of that.
Giannakis Filoxenia Hotel is located on a quiet side street, across from the bakery and a literal 5 meters from the square, a square that is ringed by many lovely tavernas.
The hotel is a clean-cut white building with blue doors and windows. The building is tucked up on the slope of the street, adjacent to a small overflowing orange grove that is hedged in by ancient rosemary bushes. The fragrance of oranges and rosemary will always bring me back to that tranquil 3 weeks I spent there.
I lugged my bags up the steep and short stairway that led right into an outdoor seating area, a cozy enclosed terrace, the lobby. White walls, paintings, seating area for a large group, and on the back wall there is a huge map of Filoti and area where all the highlights are highlighted.
My room faced the quiet side street, I had my own white stairs and blue front door. My bedroom window looked into the orchard. In the near distance Mount Zeus towered above the island, like a supreme god painted upon the blue canvas of his realm.
The owners must have taken a Greek scenery from the outside, and turned it outside-in to remind guests of where they are – marble floors, blue doors, blue window trims, and whitewashed walls.
There was no way I could forget I was in Greece and I loved them for it.
The room's decor was faultless – a small couch that pulled out into a bed, a wardrobe with hangers, a tiny coffee and food prep area, and a little stove and fridge. The bed was spacious, the mattress firm, which resulted in the best sleeps after adventurous days. Divine.
The shower is quintessential Greek-style, no doors but the water flows as hot as you need it, for as long you need it to.
When it came to accessing wifi, I never had a problem, it was fast and always available. It was an absolutely stress-free working holiday.
Giannakis Hotel is pristine clean, the staff are warmly lovely at all times, and Katerina was always there when I needed information. This is the epitome of what the word filoxenia means.
Filoxenia is a Greek virtue, handed down for centuries from generation to generation. Loosely translated the word Filoxenia means to love a stranger.
To show guests the true meaning of the word, Greeks will sacrifice their own comforts, their last meal, to welcome the travelling stranger. There is a reason why most Greeks you meet operate hospitality establishments, this is not a calling for Greeks. For Greeks, filoxenia is to welcome, to feed, and to keep safe the strangers that happen upon them.
There is a curious nature to the Greek culture too, a friendly curiosity to get to know you in order to ensure you have only fond memories of their place and people. After that initial visit, they will welcome you back again, and again, like a long-lost friend.
At table, they will choose the choicest morsel and entice you to taste it to prove to you that Filoti food is the best there is…they're usually right.
On the first day you will be greeted with a Kalimera (good morning), and after that it is Yassas! (hello again!). The difference being "Hello, how are you?†and "hey old friend!â€
The baker will throw in an extra treat most days.
Taverna owners will greet you like you were gone months instead of a day, you will be offered the best and freshest ingredients plucked from the soil and sea. Ask for a lemon and you will be given 3, ask for a drop of olive oil and you may be leaving town with a canister of it.
I love Filoti, and if I had not found Giannakis Filoxenia Hotel I wonder? would I have been able to immerse myself so completely into this charming village life?
I am returning in the fall for the olive season and I have already booked my room with Giannakis Filoxenia, my Filoti home away from Vancouver, so I do believe that begs the question.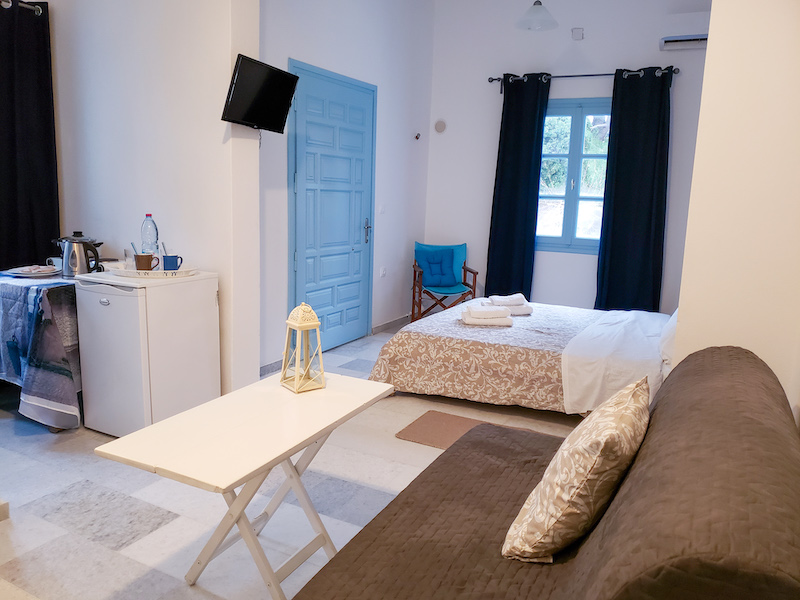 Type: Hotel and BandB
Address: 843 02 Filóti, Kikladhes, Greece
Email: [email protected]
Phone: +30 694 503 0110
Contact: Katerina
Giannakis Filoxenia Filoti