Cooking is as easy as one, two, three, with my Kitsilano Masala and Green seasoning. Go ahead and try this Guyanese Style Prawns Curry recipe.
The economy is getting more and more ridiculous and so we must find ways to save money. Maybe we can even do less side hustles and more stay home on a tight budget so w can enjoy more moments at home with family and friends. Albeit, we are all doing the side hustles, running from desk to places, trying to keep up with our bills, but we must find time to slow down and breathe. That's right. Breathe.
Pre-prep should now be an activity to enjoy, it is so peaceful to carve out that little time to mix up a batch of seasoning, that will save you hours in the next week. Please make this Guyanese Green Seasoning to keep in the fridge, use it in everything, and most of all use it to create quick and delicious meals in literally minutes! I like to use it to marinate my seafood for the prawns curry.
Now, I know not all of you will have access to my gorgeous Kitsilano Masala I created just for me – and for anyone who would like to order some. If you absolutely must, please substitute my curry blend with a really good Madras curry powder mix. It will give you the flavours you seek, but because most blends are mass produced and anticoagulants are used it will not have the softer more fragrant aromatics as my blend. But it will still be yummy.
Prawns curry is a huge hit at most dinners, people love the seafood infused with a warm, flavourful curry sauce, they love the fragrant persian rice I like to make with this dinner, and the tangy mango salsa to top it off.
If you would like to try more authentic dishes from Guyana, head on over to Jehan Can Cook Blog for some really good recipes. Before you jump to the recipe, remember to slow down and enjoy life a little bit every day. Just slow down for a minute yeah?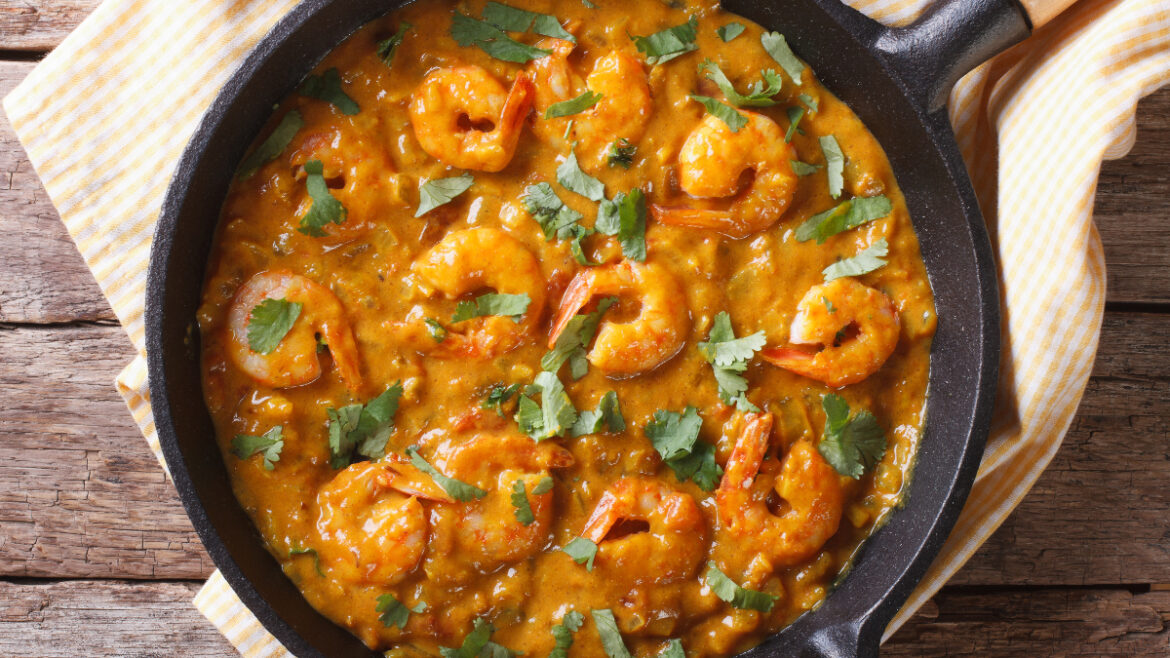 Ingredients
2 tablespoons olive oil  

1 heaping tablespoon Green Seasoning  

2 heaping tablespoons Kitsilano Masala  

2 cups broth (chicken or vegetables)  

4 Cups raw shrimps, or prawns, de-shelled and deveined

1/2 of one lemon for finishing, and 1 tablespoon chopped cilantro (optional)
Instructions
Place the Green Seasoning in the olive oil and warm on a medium flame until it sizzles.

Sprinkle in the Kitsilano Masala, and toast. Stir to avoid it sticking to the pan.  

Add the broth, bring to a simmer. Reduce heat and let it cook for about 10 minutes to really cook the seasonings and spices.

Add the prawns, or shrimps, and stir well.

Bring the broth up to a simmer again and the immediately remove from the flame to avoid overcooking the prawns, or shrimps.

Serve with steamed Jasmine rice, and a sliced cucumber and tomato salad, along with some fried ripe plantains to make it a true Guyanese style meal.    
Notes
Make my simple Green Seasoning and keep for every use. And go ahead and sub my Kitsilano Masala for a Madras curry powder mix, if you absolutely must:-)