You have to come visit, it is beautiful out there, 16 miles of beach, it is beautiful. I have lived there for almost 80 years and I am telling you, it is beautiful. I will never leave. – Moses Martin, Clayoquot Wild.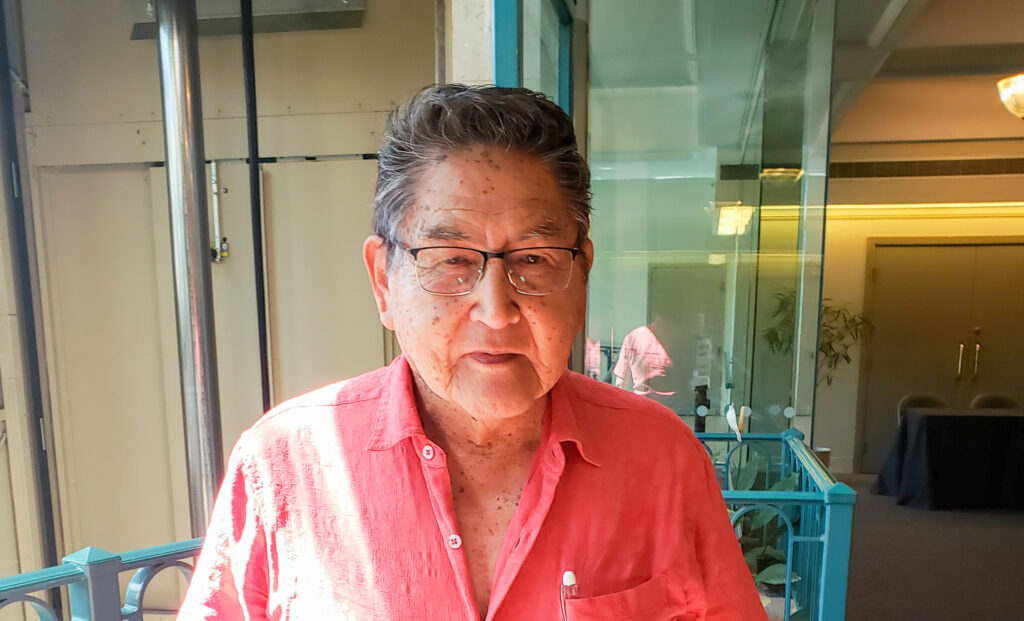 On my last media trip, for SeaWestNews, to the Vancouver Island Business Summit, I was fortunate enough to meet and chat with Moses Martin. Moses is the co-owner and main guide for Clayoquot Wild Tour Company, which is based out of Tofino, British Columbia.
As Martin tells it, back in 1993 he asked Clara Moss out for coffee, and today, they are still enjoying morning coffee together. Clayoquot Wild Tours was born of their love for each other and for the land that's in the blood of their ancestors.
The business is called Clayoquot Wild, my wife, Clara, does the bookings, and I am the head guide in our operations and we are all First Nations guides in the business.
Clayoquot Wild tours is the only tour company that is 100 percent First Nations owned and operated. The Martin family is very proud of their heritage and their land. Although Clayoquot Wild is just a small group in the Tofino tourism business, they tell a different story that one would hear from other non-indigenous charter groups.
We tell the real story. This land is in our blood, passed on from our ancestors, and we hope it will be here long after…for our future people, said Moses Martin.
Tofino is a small coastal village at the western edge of Vancouver Island, In the traditional territory of the Tla-o-qui-aht First Nation, which is at the heart of the Clayoquot Sound UNESCO Biosphere Region. Here, all the inhabitants are united in their determination to protect the natural and cultural wonder that surrounds them.
According to a Condo Nast article, The Wickaninnish Inn is widely credited for putting Tofino on the tourism map. Since then, the resort gave rise to a whole new wave of visitors to the west coast of Vancouver Island by enticing people with captivating views of crashing waves and horizontal rains during what it dubbed storm-watching season.
Long before tourism arrived, and no matter what the weather may be at any given time, Tofino is a geographical rarity on this planet. It is an amazing corner of the world that is as beautiful as it is wild, and as peaceful as it is powerful. One week in Tofino, will return years to your life, or you will sure feel like it. Two days will put your whole little world in perspective.
Everything in Tofino is connected: from the kelp in the Pacific Ocean, to the black bears of the rainforest, to the people who call this place home.
Clayoquot Wild offers the hot springs tour, and most of what you would want in other charters like whale watching and bear watching. Canning salmon is done in the summer so that is a good time to visit too.
They do not provide meals, but they do provide guests with a list of local places to enjoy meals, or to pack their own lunches.
The longest tour on offer is the hot springs tour, which is a 6-hours trip so they do strongly suggest guests pack their picnics to enjoy at the rest stops.
You know there is so much to tell, so much to share that it would be impossible to talk about it all right now, but you come, you ask the questions that arises during the tour and believe me somebody will have the answers, our guides will always have the answers. And if by some small chance, we do not have an answer, we will find an informed answer for you,†explained Martin.
Here are the tours led by Tofino's only First Nations family company, Clayoquot Wild.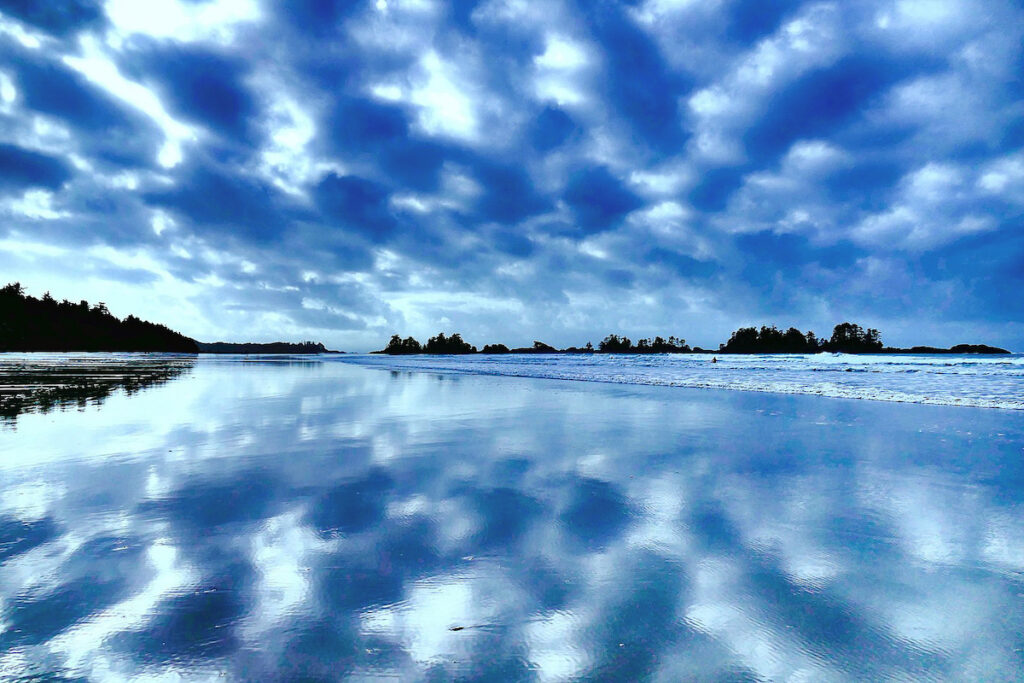 Vancouver Island black bear, otherwise known as Ursus americanus vancouveri, can be spotted every April through October, bear watching tours are operated by the outdoor outfitters who also offer whale watching and Hot Springs Cove outings. (pictured)
In the heart of Clayoquot Sound find those unspoken connections with the natural world. With smaller groups and responsive hosts your curiosity, and the animals that present themselves to you will shape your experience. You will be guided by people that have expertise and a special relationship with nature that only comes from lifetimes of being part of it.
Every trip is a unique experience, shaped by the animals that present themselves to you and your interests. Getting away from it all with Clayoquot Wild, you can choose to quietly soak in the incredible beauty of Clayoquot or engage our guides for First Nations and Ecological Interpretation.
Clayoquot Wild Whale Watch & Wildlife Tour (2.5 hour)
Discover the wild of Clayoquot Sound with our local experts. Encounters may include gray whales, humpback whales, orcas, sea lions, eagles, sea otters, harbour porpoise, puffins and many varieties of marine birds and much more!
Hot Sprints & Wildlife Tour (6.5 hour)
The most romantic and full experience you can have exploring the habitats of Clayoquot Sound in one day! Start with a 1.5-hour ocean and wildlife quest with our expert local guides. Then find yourself in an ancient old-growth cedar forest for a wondrous half-hour stroll to the healing waters of the natural hot springs. You can spend 2 to 2.5 hours in these sacred pools cooled by the Pacific.
Clayoquot Wild Journey into History (1 hour)
Join elder Moses Martin, 7th generation descendent of War Chief Nookmiis*. Learn about growing up in a time of change: from dug-out canoes to fully computerized motor boats.
Clayoquot Wild Deep Sea Fishing
Come join us with all the modern comforts, in this ancient harvest by setting out in our comfortable 2007 24.25 foot Harbercraft fishing vessel, Freedom. You can relax knowing you are in the hands of a skipper who is well-seasoned in providing this highly valued source of protein for his family, his community and his guests.
Whether it's storm watching or taking a dip at Hot Springs Cove, there are so many ways to be one with all that exists here. Still, it's important to make sure your only surprises are pleasant ones. Tofino's tempestuous environment may be alluring, but it can also be dangerous without proper preparation, so make sure you plan your visit ahead of time.
Join Clayoquot Wild, and all the tour companies, along with Wilderness Committees Preserving Wilderness. Preserve, protect and share the knowledge.
Contact Clayoquot Wild: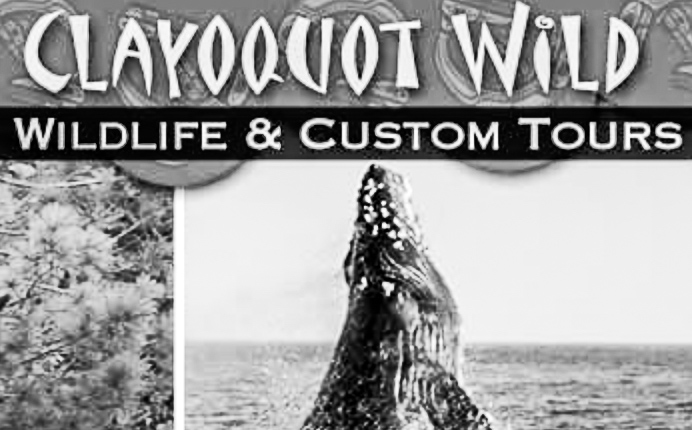 Address: 316 Main Street, Tofino, British Columbia, V0R 2Z0
Phone: 250) 266-0543
Facebook: Clayoquot Wild