On a cold wintery day pandemic day, nothing beats this tummy warming, childhood favourite of mine…Mama's Cottage Pie.
There is a dish I absolutely love this time of the year, not Shepherd's Pie but Cottage Pie. This is so easy to make, mainly because there is no need for elaborate ingredients. I believe there are some dishes that is so classic it should not be messed with.
Cottage pie is basically ground beef, some aromatics, loads of veggies, and a gravy. The meat and vegetables are pan cooked, topped with smashed potatoes and baked until bubbly.
I usually make a big batch of these little pans of pure soul food, then I freeze them, and drop them off to friends…what better gift than a homemade meal that just needs to be popped into the oven while you chop up a salad, hmm?
The video I have made for this blog post also includes an image of a plant based version, which can all be made at the same time…Greek fava beans is the ideal pulse for this dish.
Start with the best proteins and season it well, go for all natural beef, locally raised when possible. Go mad with the vegetables, along with carrots and celery, add peppers, spinach, green beans and whatever else your heart desires. Throw some fresh herbs, add loads of butter and sour cream to spruce up the mash. And finally, the sauciness of the pie…tomato paste, beef broth, a bit of gluten-free flower to thicken it…so good.
A note; this is one of my mama's classics, she was making these back in the day when we only knew them as Shepherd's pie. Try one of her other classics with a twist, Guyanese Chowmein.
Being food-terminology correct I must label it Cottage Pie…you see a shepherd's pie implies it is made with ground mutton, whilst a cottage pie means it is made with other proteins.
The warm beefy goodness, topped with buttery mashed potatoes, and served with a fresh crunchy salad is the ultimate well-rounded meal. Flavours and textures are celebrated in this soul food.
On a cold wintery day, nothing beats this tummy warming, childhood favourite of mine…Mama's Cottage Pie.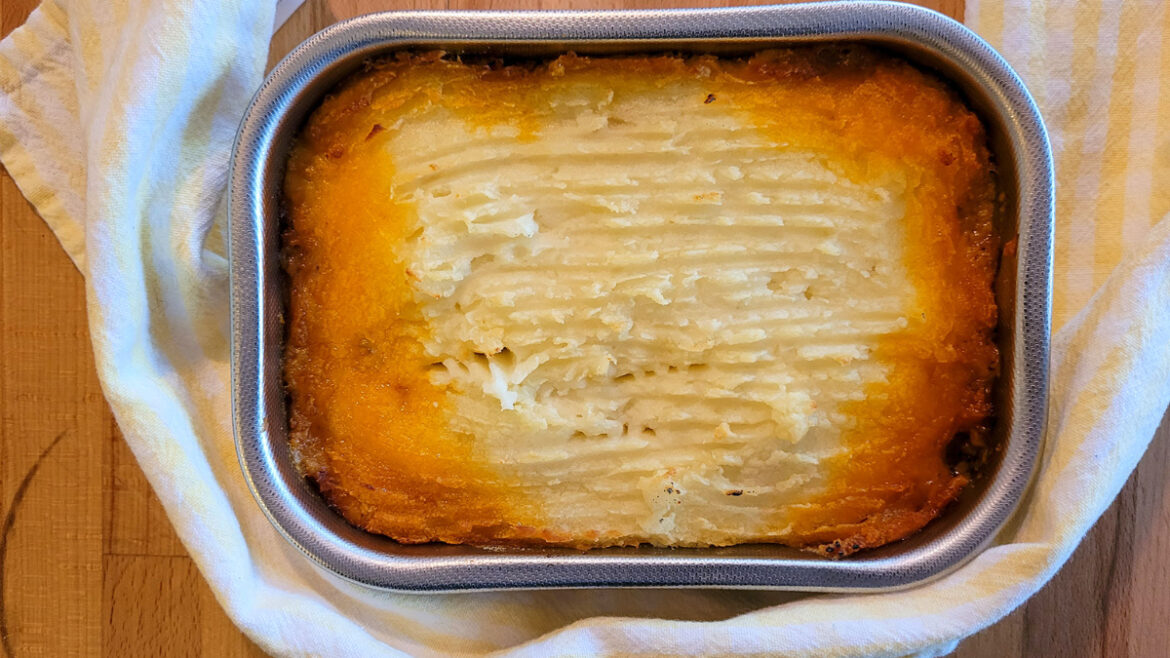 Ingredients
The meat:

4 pounds (about 2kg) extra lean ground beef

1/2 cup natural or homemade ketchup

 ¼ cup yellow mustard

1 tablespoon ground black pepper

a sprinkling of salt (about ½ teaspoon)

The potatoes:

5 pounds (2.25kg) potatoes

1 pound butter (4 sticks)

8 ounces (250ml) Sour cream

1 cup chopped fresh herbs like thyme, sage and oregano

Salt and pepper to taste

The aromatics:

¼ cup Greek olive oil

2 large onions, diced

2 air dried chorizos, diced

2 bundles parsley, finely chopped

The vegetables:

3 cups diced carrots

2 cups diced celery

1 box (5 ounce) baby spinach

2 cups any other vegetables you would like to add

For the gravy:

4 cups beef broth

1 tablespoon gluten free flour

Salt and pepper to taste.  
Instructions
The meat: Season with the ketchup, mustard, salt and pepper and set aside.

The potatoes: Boil and drain the potatoes (reserve 4 cups potato water for the sauce if using bouillon). Add the butter, sour cream and the herbs and smash it all together.

Use a fork to give it a quick whip so there are no big lumps of potatoes hanging about, set aside.

The aromatics and the browning: Pour the olive oil into a large sauté pan, add the onions and fry gently for 3 minutes. Add the chorizo and fry for an additional 3 minutes. Now sprinkle in the parsley, give it a good stir, and cook for 2 minutes.

Time to brown the meat in this big pan of aromatic deliciousness. Layer in the ground beef as thin as possible and let it brown. Break it up and flip over in large pieces to sear it all around.

Once this is well seared (lovely brown meat), it is time to add the tomato paste. Make a hole in the centre of the pan and let the hot fats pool, add the tomato paste and roast it, then incorporate into the meat and aromatics.

The vegetables: Add all the vegetables, all at once, to the meat and aromatics. Sauté for 2 minutes. Give it all a good toss up.

The gravy: Add the 4 cups beef broth (or 2 beef bouillon added to 4 cups of the boiled potatoes water), bring to a simmer and let it reduce to half the amounts of liquids.

Whip 1 tablespoon gluten free flour with ½ cup cold water until smooth. Pour into the meat filling and stir until well incorporated. The sauce should be a perfect texture now. Remove from the heat.

The finish: Set the oven to 400°C.

While the oven is warming up:

1 – Divide the meat mixture into six 8×6 foil pans.

2 – Top each mixture with about 6 big spoonful of mash, and using a fork, spread gently to the edges to completely cover the filling.

3 – Freeze for later uses at this point.

4 – Or bake in the preheated oven for 30 minutes, or until the filling bubbles and seeps around the edges of the potatoes.

Remove from the oven, let it cool for 10 minutes. Serve with a fresh crisp green salad.
Notes
Half or quarter the recipe by reducing the amounts exactly as needed.