Cassava puffs are filling and delicious, Vegetarian and Low FODMAP. Follow the recipe, and enjoy the finished product without any guilt or tummy pains.
These cassava puffs, with green specks of a homemade Guyanese-style chimichurri, served with a quick green mango sour, is a serious comfort food for me. The golden fried exterior surrenders quickly to the soft well-seasoned mashed cassava. My mom made these as a side dish to complement the chicken curry spread we were always treated to on Sundays, her one day off from work.
Cassava is a root vegetable, a very important part of our diet in Guyana. There was a time when wheat flour was banned from our country and we used cassava more than was normal. In normal times, cassava is served up in various dishes about 3 times per week. Cassava puffs were always my favourite snack.
There are several types of cassava – our famous cassareep comes from the bitter cassava. Cassareep is a thick black liquid seasoning that is made from cassava root, it is used as a base for many sauces and most importantly, it is what makes our Guyanese pepperpot. In fact, even Chef Ramsay went on a culinary adventure to learn about cassareep.
A typical day's meal in Guyana may start with cassava bread, made from the bitter cassava. Cassava Bread is our flat bread, it is like a massive round cracker, hard and thin. Toast it on a tawa, smear it with butter and wow! To make cassava bread, the bitter cassava is grated and all the toxic juice is squeezed out. It is then dried in the sun and sifted to make cassava flour. The toxic juice is what makes cassareep.
Sometimes for lunch we may have a quick "Boil and Fry", which is a variety of root vegetables (sweet potatoes, Guyanese yams, taro root, half-ripe plantains and cassava) boiled and drained, then tossed with a spicy sauté of hot peppers, onions, garlic and salt. This is usually the base or side for some stew or the other. I love Boil and Fry and Salt Fish, or Fish Stew and Cassava Puffs.
Dinners may be something light like bread and cheese and a steaming mug og local hot chocolate. And for dessert we may have a cup of tea and a thick slice of Cassava Pone.
Cassava pone is a cake-like dessert of an equal mix of grated sweet cassava and grated coconut with lots of tropical spices and cane sugar, it is then wrapped in banana leaves and steamed, or baked in an oven.
I could start a litany – not unlike Bubba and his shrimps – about cassava…cakes, breads, boiled, fried, mashed, porridge, tapioca pearls, metemgee, soups, stews, curries and my all time favourite…Mama's Cassava Puffs. Or check out more of her recipes on this blog, like this Fish Cakes and Bakes.
Enjoy your cassava puffs as a snack, or, make a pork chops stew – season and sear the chops in olive oil and brown butter and drizzle with vinegar, sprinkle with salt, set aside. The seared chops are then added to a rich stew made with crispy pancetta, loads of tomatoes and tomato paste, caramelized onions, red peppers, yellow peppers, and wilted spinach.
Enough with my babbling! Here is the recipe for Cassava Puffs.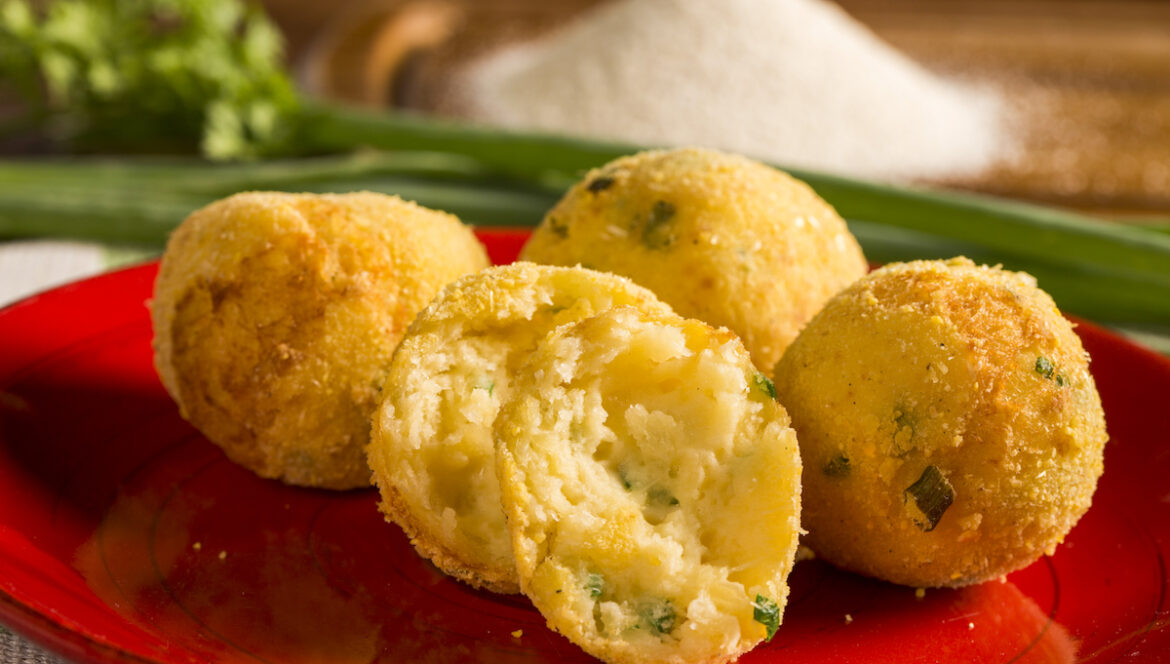 Ingredients
1 kg frozen cassava

1 teaspoon butter

1/4 cup milk

1 egg white

2 tablespoon green seasoning  – (1 head green onions, 11 small shallot, 1 clove garlic, 1/2 of a red chilli, 1/4 teaspoon thyme leaves) – blitz in a small food processor.

1 cup flour (use Gluten-free for special diets), salt to taste, and 1/2 teaspoon black pepper – mix and set aside

1/2 cup olive oil

Mango Sour (optional) – 1 green mango (peeled and sliced), 1 apple (unpeeled and slices), 3 cloves garlic, 1 whole chilli, 1 tablespoon salt, 1/2 cup white vinegar, 1/2 cup water. – place all in a small saucepan, bring to a boil, then reduce to a simmer until half the liquid has evaporated. Remove from the heat and use the back of a spoon to mash to a smooth consistency. 
Instructions
Fill a large pasta pot with 10 cups cold water, drop the frozen cassava in and add 1 tablespoon salt. Bring to a boil. Lower the heat to medium and cook until done. Test for doneness (just like boiled potatoes) and remove from the heat and drain. Remove the root (a long string) from the centers and discard.

In a large bowl, place the boiled cassava, butter, milk whipped with the egg white, and green seasoning.

Mash well. Whip with a fork to incorporate the seasoning. Set aside.

Place the seasoned flour on a flat plate.

Wet your hands and scoop up a golf ball size seasoned mashed cassava, roll and drop into the flour. Coat the cassava puff on all sides and set aside on a separate plate. Repeat until all the cassava mixture are puffed (rolled).

In a large skillet, on medium fire,  heat the olive oil (do not let the oil smoke). 

Add a single layer of puffs to the pan, let it brown on one side and then roll around until all sides are evenly crisp (should be a lovely yellow-gold colour).  Note: no more than 10 seconds per side.

Remove and drain on paper towels.
Notes
Serve as a side dish to the main meal, or with Mango Sour as a snack.