Visiting Athens Central Market on a Saturday morning is one of the best ways to learn about Greek food and culture.
The ancient Agora is still very much a vibrant and thriving part of Greek culture. Athens Central Market is a lively and energetic place where the two central buildings are surrounded by thronged alleyways, and narrow streets, with their array of brilliant-hued wares and produce.
The market is a mere 15-minute walk from Syntagma Square, along the way you will encounter some of the best little cafes and bakeries, and unique little shops offering everything from handmade clothing to spices from around the world.
Your senses will come alive with the glorious scents of herbs like mountain thyme, oregano and mint. Beekeepers will offer you tastes of thyme-scented honey, or wildflowers-infused honey, or dollops of 10 different types of honey harvested from bees across the breadth and width of Greece.
There will be the fresh baked scents of yeasty breads, and sesame coated Koulouris, and buttery pastries. And of course, to complement these mouthwatering aromas, there will be the delicious smells of fresh roasted coffee beans.
Get yourself a slab of milk-white feta from the blocks swimming in their ocean-y brine, and load up on the village cheeses on offer. Don't forget to take home some glossy black Kalamata, or emerald green olives. And you must try pastourma, the Greek version of a Bresaola, made of salted dry-cured beef that is then wrapped in a thin but intensely spiced paste. For an authentic Greek Pastourma pie check out this recipe.
Robust vegetables will beg to fall into your market bag, while the farmers will offer you morsels upon morsels of their delectable fruits and vegetables.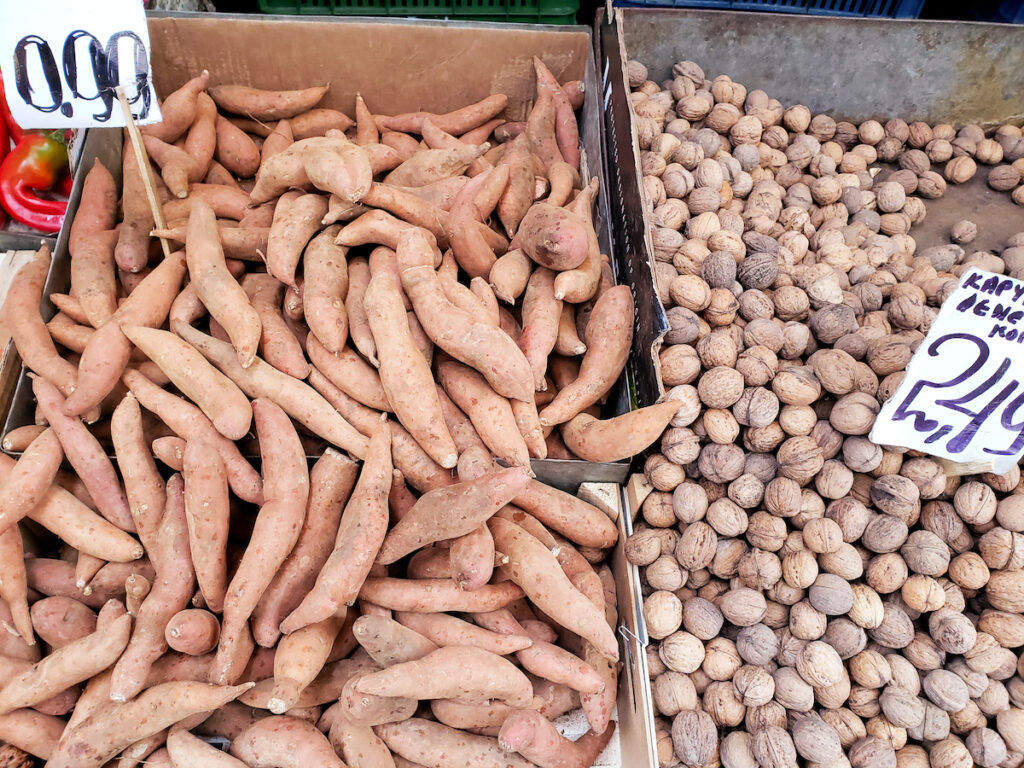 Then there is the fish market, housed in one of the 2 main buildings, overflowing with bounties from the seas. Take a look at the map of Greece and that will give you an idea of why Greeks love seafood so much.
From the cheapest and most abundant – sardeles (sardines), gavros (anchovies), kolios (mackerel),
gopa (bogue) and marides (smelt) and kalamari (squid) – to expensive choice like astakos (lobster)Barbounia (red mullet) and , and everything in between like Garides (shrimp), and Bakaliaro (cod).
Have you tried any of these yet?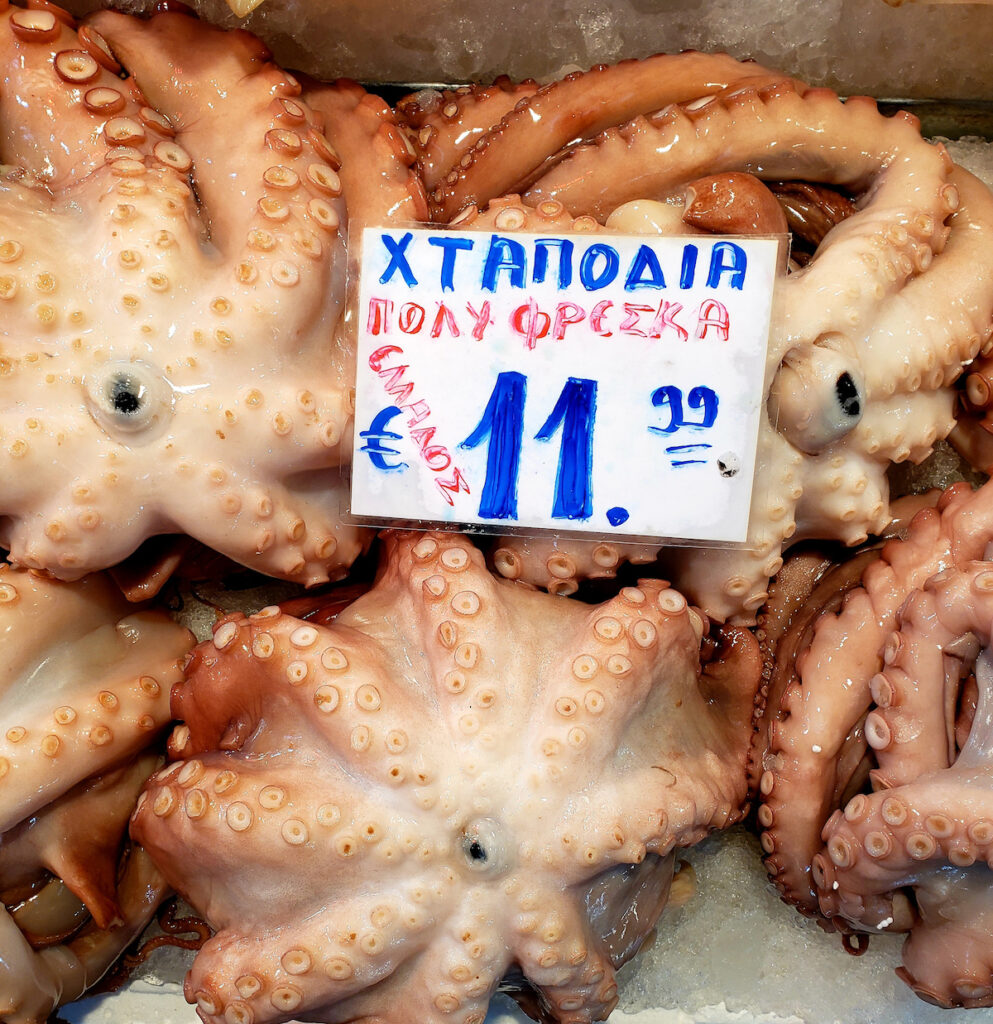 The Public Market Place of Athens has been in business nonstop since 1886. It consists of a fish market, vegetable market, and a meat market extending along both sides of Athinas Street. Also known as Varvakeios Agora, it is open every day, except Sunday, from early in the morning till late afternoon. Learn more about the market here.
Address: Athinas, Athina 105 51, Greece
Getting there is easy, use the metro and get off at Syntagma Square.