This Chocolate Chip with Orange Peel Cookie recipe is like a happy childhood and a gourmet snob colliding and high-fiving in these pandemic times.
I have baked chocolate chip cookies many times and no two times have they ever been the same. This recipe has literally hit the sweet spot. I added orange peel to the mix, and made the cookie more cakelike to create this fantastic Chocolate Chip Orange Peel Cookies. I believe it were was the wow factors I have always been missing.
These last couple of months, we all have baking on the mind. If you don't know what I mean, try buying 2 bags of flour and see how fast your wrists will be slapped. I per customer means the supply chain stays consistent, and not too many sugar-overdose can happen all at once, I think?
But seriously, baking doesn't get us in the mood for love. The very act of baking is love itself. We love the aromas of fresh baked cookies, cakes and bread too, it triggers comfort and nostalgia. Our instinct to recreate those feelings over and over is what keeps us baking day in and day out during these lockdowns.
I have found that now is the best time to play with and redevelop old recipes because there are no guests coming to dinner, no gatherings during these lockdowns. Truly it is a great time for R&D, as you will see, 80 percent of the time you will hail yourself as a kitchen hero, and the other 20 percent results in fails that can ever so easily be repurposed as crusts, croutons, sprinkle and what not.
These cookies are crunchy on the outside, and cake-like soft when you bite into them. The scents of vanilla, oranges, and exotic chocolates melt into the buttery baked goodness to explode in one sensory-glorious mouthful of emotions. I am telling ya, it's one special as heck cookie recipe!
This Chocolate Chip Orange Peel Cookie is like a happy childhood and a gourmet snob colliding and high fiving in these pandemic times.
Pour a big glass of milk and feel no guilt when you eat 1,2, 3 or 6 all by yourself. Enjoy.
Oh, if you love this one, then try this cool fail of mine that made a great Jam Crumble Coffee Cake.
And if you are GF and  can't eat these, then head over her and try these Low FODMAP and GF Banana & Blueberries Bread.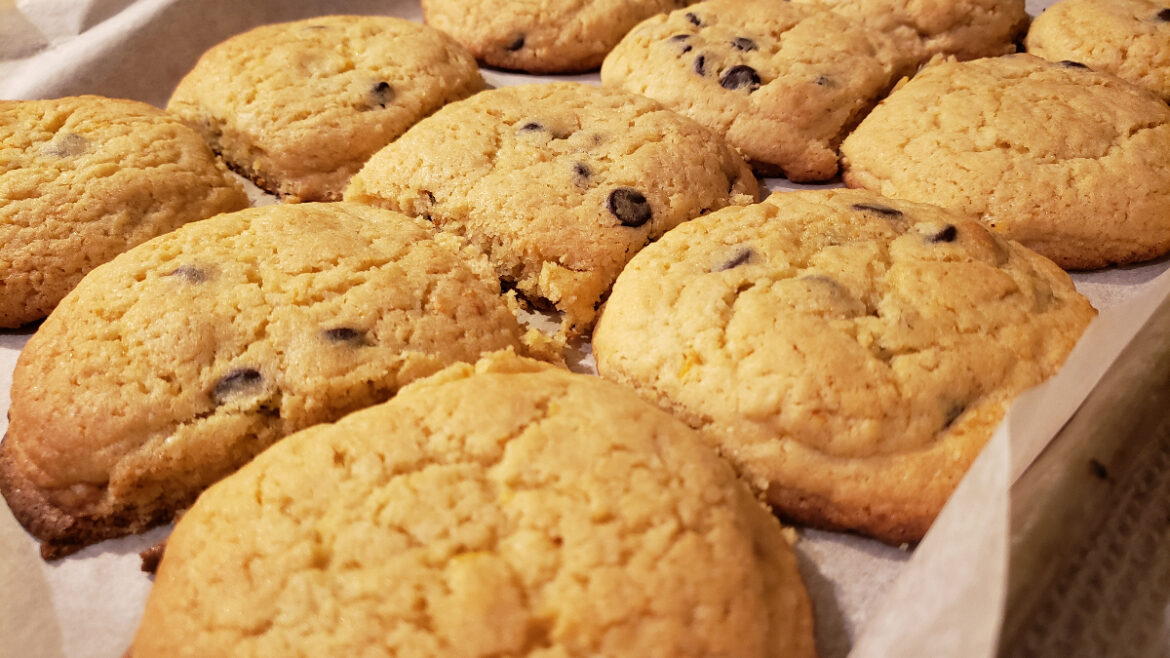 Ingredients
1 cup butter, softened

2 cups organic cane sugar

3 extra large eggs, lightly beaten

1 teaspoon pure vanilla extract

1 teaspoon chocolate extract

1 tablespoon grated (fresh organic) orange peel

1 tablespoon baking powder

 1/4 cup cold milk

¼ teaspoon salt

3 cups all-purpose flour

1 cup dark chocolate chips

1 cup milk chocolate chips
Instructions
Preheat the oven to 400 degrees.

Sift the flour, baking powder and salt together, and set aside.

Mix together the butter and cane sugar, mix well but leave it a quite grainy (not creamy).

Break the eggs into the butter and sugar mixture, stir in the vanilla, chocolate essence and the orange peel, add the milk and combine well.

Next, add the flour mix, both sets of chocolate chips, and stir until all dry ingredients are incorporated.

Take the dough by big tablespoons each and roll in the palm of your hands to form balls about the size of large golf balls. 
*Bake a few. Freeze a few. Or bake all in one batch.

Place wax paper on the bottom of a large cookie tray, space out 12 balls of cookie dough on the tray, and bake until the edges look firm and barely brown (about 10-12 minutes per batch).
Notes
Organic cane sugar and orange peel make these cookies amazing.