Fabian Dawson is not only a multi-awarded investigative journalist, he is also an amazing home cook. Take this Black Pepper Chicken dish as an example.
The days when he is inspired to cook is always a good day in our home, it means I ain't cooking today, yay.
I should clarify one tiny point…sometimes he will create in a fit of energy and it will be phenomenal…except he wouldn't remember what he did the last time when he attempts the dish again. Basically, every time it is a new dish with the same name.
I have taken to writing down his recipes when he is the throes of creativity. Like this Black Pepper Chicken recipe.
Fabian Dawson's work has taken him all across the globe and he has dined in some of the most unique of places. Yet, at the end of the day, he loves to eat and drink in the company of his true friends.
Fabian loves all cuisines, but the food he craves the most will alway be Malaysian cuisines (there are many culture-influenced foods in Malaysia so it is truly a land of many cuisines).
I will certainly be sharing his traditional Malay dishes, Hokkien Chinese dishes, and South Indian Malaysian dishes, over the next few month. What can I say? The pandemic months inspired him to cook.
This Black Pepper Chicken dish really made me moan in food pleasure. It is spicy but doesn't burn, it is packed with umami flavour, it is aromatic and sweet with the caramelized onions, and the crispy peppers are just the perfect finish.
Add your own veggies too, I like garden fresh green peas, maybe a few baby carrots, and a handful of spinach, but don't overload on the vegetables. You have to really taste the yummy black pepper chicken.
Marinate the chicken and spices for 1 hour before cooking.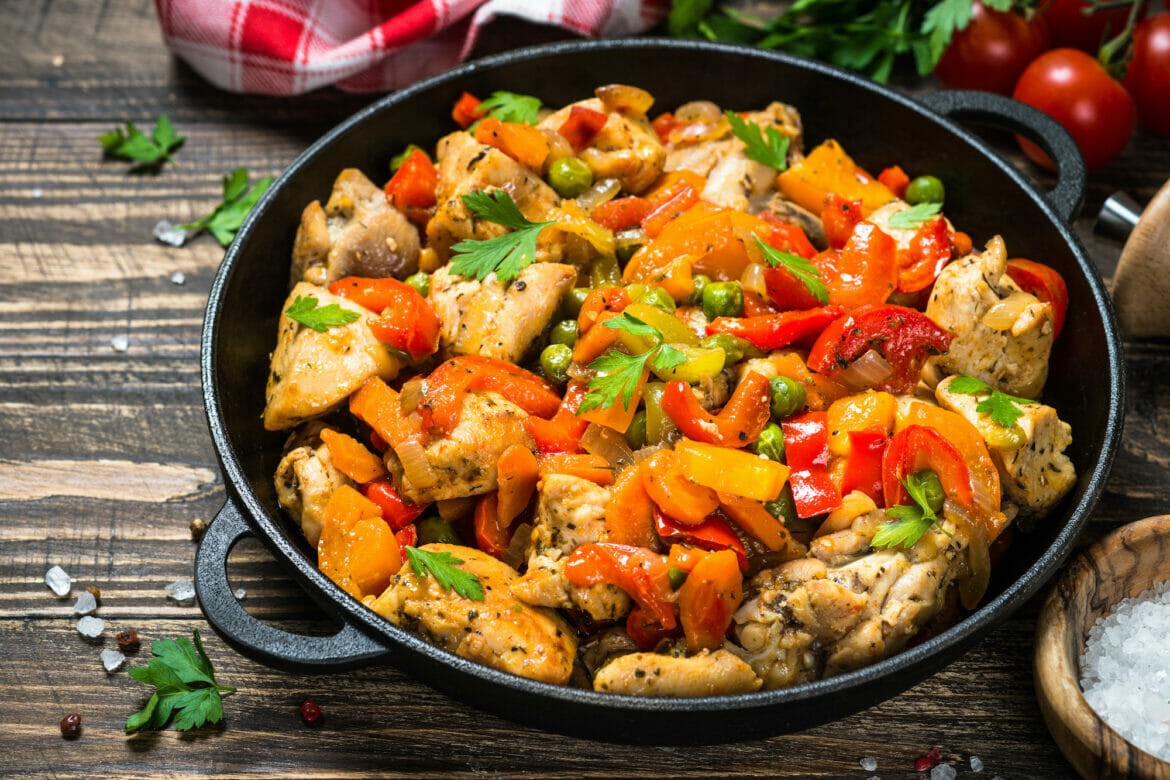 Ingredients
2-3 pounds local free-range chicken, cut into big bite sized pieces

2 tablespoons course ground black pepper

1/3 teaspoon garlic granules

1/2 cup medium soy sauce

1 teaspoon sesame oil

1 large onion, thinly sliced

1/4 cup Greek olive oil

1/2 cup chicken broth

1 large bell pepper, thinly sliced

1/2 cup green peas (optional)

1 small carrot, julienned (optional)
Instructions
Mix the chicken, black pepper, garlic, soy sauce, and sesame sauce all together. Set to marinate for 1 hour.

Heat the pan, then add the olive oil and onions together. Keep cooking and stirring until the onions are caramelized.

Add the marinated chicken, brown on all sides to seal in the juices and absorb the aromatics.

Add the chicken broth, bring to a fast boil, then lower the heat to medium mark, cover and let it simmer gently until almost done. Stir every so often to avoid sticking.

Add the vegetables, stir well, and cover again, cook for an additional 5 minutes.

Remove from the heat, let it rest for 5 minutes. Serve with steamed basmati rice.
Notes
Make sure to marinate the chicken for 1 hour, beforehand.