Herb-roasted chicken finished with Kythira sea salt, served with a rich gravy from the drippings, will never disappoint.
As long as the meat of the Herb Roasted Chicken is well-cooked and moist, and the skin is crispy with loads of herbs and sea salt, you know you have succeeded.
I like to serve this Kythira sea salt and fresh herbs seasoned chicken with baby potatoes tossed in lemon-thyme butter, and a salad with Greek olive oil and lots of cracked black pepper.
In your big green salad, don't be afraid to toss in steamed green beans, ribbons of red and green cabbages, and cherry tomatoes. Season the salad with more lemon juice and olive oil if needed.
There's nothing really new about the cooking methods that has stretched across time immortal. What's new to us individually, is the combination of flavours we tend to create, whether orchestrated, or by accident. With every dish we prepare, there must be an honesty to the approach we take. Create to impress your own tastes profile and you will never go wrong.
I love Kythira salt. Really, how I can I tell you about the flavour? Well, I will give it a shot here…it tastes as fresh as a warm summer day spent on a pristine beach…you know that feeling of utter contentment you get, and that clean sweet salty taste on your lips and skin? That about describes it.
Read more about Kythira salt here.
Start with the simplicity of the cooking-method you know to be the foundation of your success— if you are great with the oven, go there. Or if you like the grill, or the fry pans, work with those.
Create with the ingredients you love, and be influenced by the cuisines that make you want to break into an aria! Aim for classy-simplicity and honesty in everything you do.
Most importantly, start and finish with clean ingredients. Like, know where you chicken comes from, find your local produce farmers and help them out. The more we go local, seasonal for the bulk of our recipes, then the better it is for the environment, the economy, and our bodies…then we can splurge on the seasonings and aromatics like Kythira salt and spices not grown at home, and of course real Greek olive oil.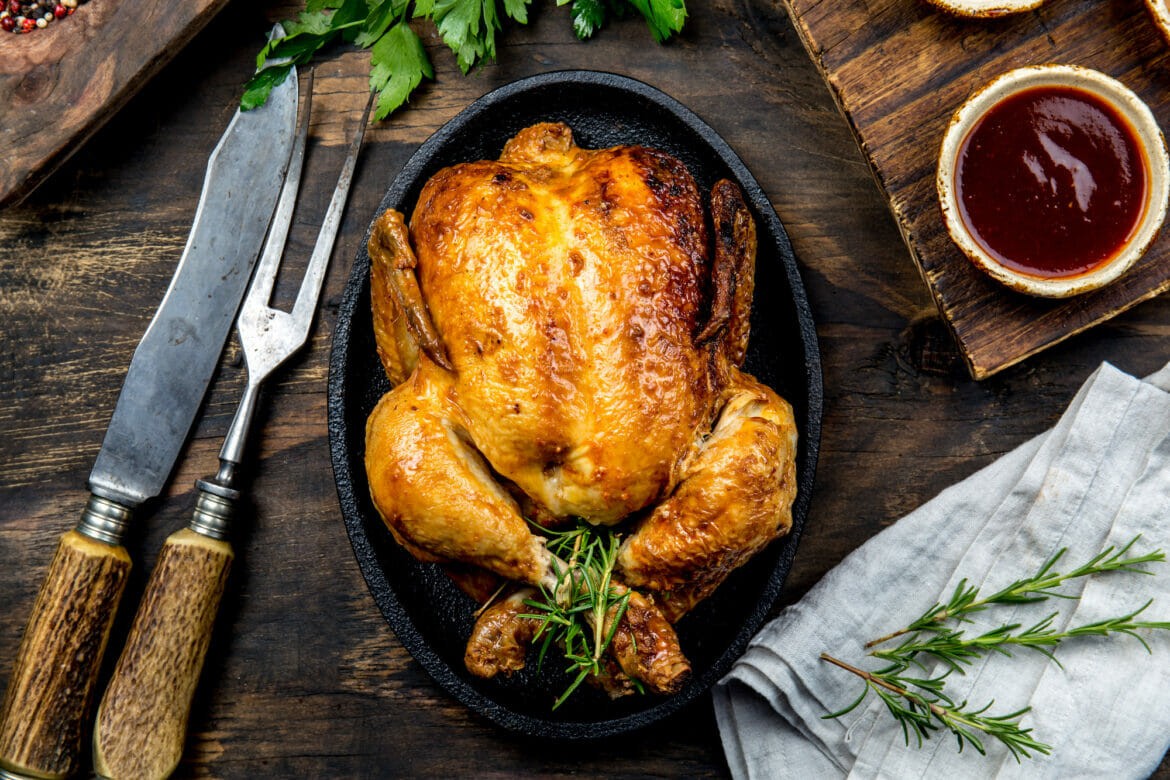 Ingredients
1 whole 4-pound local free-range, vegetarian-fed chicken

2-3 tablespoons olive oil

2 teaspoons Kythira sea salt

1 teaspoon coarsely ground black pepper (straight from the peppermill)

2 handfuls fresh herbs, stripped and shredded – thyme, rosemary, sage, parsley works great

Plus, 1 bunch each rosemary, sage, and parsley

Pre-heat oven to 400 F.

For the Gravy you will need 1 tablespoon butter, 1/2 tablespoon flour, and 2 cups chicken broth.
Instructions
Rinse the chicken and pat dry with paper towels, rub inside and outside with the olive oil and shredded herbs.

Stuff the cavity with the fresh herbs.

Sprinkle the salt and pepper liberally over the chicken, place in a roasting pan and roast uncovered for 1 hour and 30 minutes in the pre-heated oven (spoon the juices from the pan onto the chicken, once or twice during roasting).

Remove the roasted chicken from the pan and save the drippings.

For a quick gravy – transfer the drippings to a saucepan, add 1 tablespoon butter and 1/2 tablespoon flour. Whip with a whisk, add the chicken broth and keep stirring to make a smooth gravy. 

I love this with lemon-thyme butter baby potatoes and a big fresh salad.
Notes
Note: There is no need for gravy or sauces because the Kythira salt roasted chicken skin is crisp and whole, which kept the meat moist and tender.