Vegan foods are always on trend, but better than that is when it is a Guyanese Channa that is 100 percent gluten-free.
Boiled-and-fried Channa is a popular Guyanese street food. Any time of the day or night you'd be able to find a brown paper sack filled with this fragrant boiled snack, usually top with a garlicky mango sour. Check out Homemade by Zagat's mango sour recipe.
Guyana is a subtropical gem, one of the few places left mostly untouched. It's a country rich with minerals and richer with fertile soil ready to grow organic foods at the drop of a seed. Known as the land of many waters and the land of six races, and as the country of countless national holidays in celebration of every religion…including cricket.
The chickpea is a legume known as gram, or Bengal gram, garbanzo, Egyptian pea, and channa. Chickpeas are high in protein, dietary fibre, iron, potassium and magnesium. Another great reason to eat less meat is the chickpea.
Here is another great gluten-free (Lime Salmon) dish that happens to be low FODMAP too. I love this Lime Salmon dish. If you are suffering stomach issues come over here for clean healthy recipes spattered throughout. I am all about fast and tasty food when it comes to gluten-free and low FODMAP.
Should we get right to the recipe? I think so, after all you are here to eat, so let us eat!
BTW…if you ever make it down to Guyana, you must try all the cultural foods, they have some of the tastiest street foods like channa, doubles (stolen from Trinidad), bakes and salt fish, dal puri and curry, flaky pastries filled with scrumptious fillings, tamarind balls…
Or check out Alica's Pepperpot for hundreds of Guyanese recipes.
For a quick hummus, do this…add the cold leftover channa (vegetables and all) to a food processor, add 1/2 cup olive oil and 1 cup cream cheese. Blitz and pulse to a finish. Transfer to a dip and chip bowl and serve. Seriously good.
So, onwards to the Guyanese Channa recipe.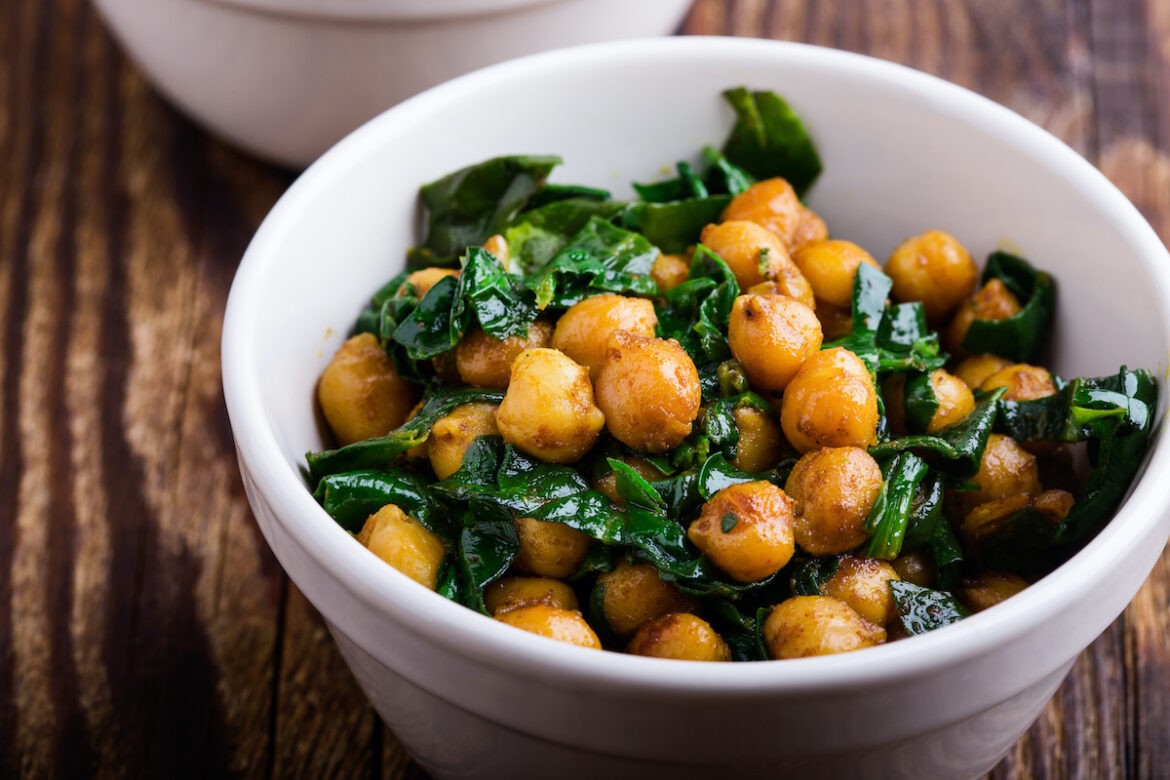 Ingredients
3 cups chickpeas, washed and soaked in cold water overnight.

1/2 cup Greek olive oil

1 large onion, finely diced

2 cloves garlic, minced

1 tablespoon ground cumin

2 Thai chilies, minced

salt to taste

1 cup  vegetables broth

Note: Spinach, carrots, and celery can be added to make it a complete meal.
Instructions
Drain the water off from the soaked channa, rinse the channa and place in a large pot of cold water, bring to a boil, then simmer for 1 hour (skim off the foam that comes to the top and discard). When cooked through (not mushy) , drain and set aside.

Heat the oil and onions together until the onions are sweated and starting to brown.

Add the garlic and peppers, stir fry.

Add the cumin, and stir quickly to avoid burning.

Tip all the cooked chickpeas into the mix and stir well to coat in the aromatics and spices.

Add the broth, cover and let it simmer gently, check and stir when necessary.

Remove the lid once the liquids have cooked away. Keep frying and turning the channa so there are some brown sticky bits too (not burnt).

Remove from the heat, toss with the vegetables if you are adding any.

 Serve as a snack/appy, or make into a full meal with the vegetables.
Notes
Make it a snack like street food, or make it a full meal.