Kelly's creations are not only inspired by her Cretan heritage, they are inspired by her love of life…I think this Cretan Bougatsa is the epitome of that.
Cretan cooking often plays with the mix of sweet and savoury elements in dishes. Sharp earthy cheeses are often paired with island honey and spicy cinnamon. Nothing is as authentic as this gorgeous Cretan Bougatsa creation by Kelly Michelakis of The Hellenic Odyssey.
The Hellenic Odyssey is a project created from the heart, driven by a passion for food and inspired by a love for travel. Kelly Michelakis said she chose her career of doing what she loves and by using the constants in her life – great food, good health, and mind altering travel.
"I don't want to live a life of regrets, I want to live life to the fullest."
This is Kelly's daily reminder to be present in her every moment, from taking tours to Greece, to leading cooking classes in Melbourne, Australia, to creating these delectable desserts like this Cretan Bougatsa to share with her fan base.
Hellenic Odyssey is co-owned by Kelly and her husband, Xenophon. As Kelly explains it, Xenophon is the driver while she is the navigator. He is the one ready to explore and have fun, he is creative and artistic, whereas Kelly is the planner, the thinker the organiser and the researcher. Together they make the perfect team.
The couple entices travellers to seek authentic travel experiences in Greece, whether it is through exploring the many villages and beaches, or learning about the art of traditional handmade filo pastry, and enjoying farm to plate dining and the unique clay pot cooking so famous in Crete.
Kelly's creations are not only inspired by her Cretan heritage, they are inspired by her love of food, her passion for travel, her yearning to share her core beliefs with the world. I think this Cretan Bougatsa says it all.
"Through its varying landscapes, charming villages, hospitable people and fresh local produce, Crete offers something for everyone.
"Whichever way one chooses to explore, whether on foot or via a scenic drive, the smell of the fragrant flowers of wild thyme will infuse your senses, following you on your travels. Cretan thyme honey, which is so liberally poured over the freshly baked handmade Cretan delicacies such as my Cretan Bougatsa, is one of the best honeys in the world," said Kelly.
For more of Kelly's authentic Cretan recipes visit her at The Hellenic Odyssey, where you will get daily tips on food, travel and Greek life.
These gorgeous images are courtesy of Xenophon @ The Hellenic Oddysey.
Looking for a savoury Greek recipe to make at home? Then try this Make-believe Loukaniko and Tomatoes.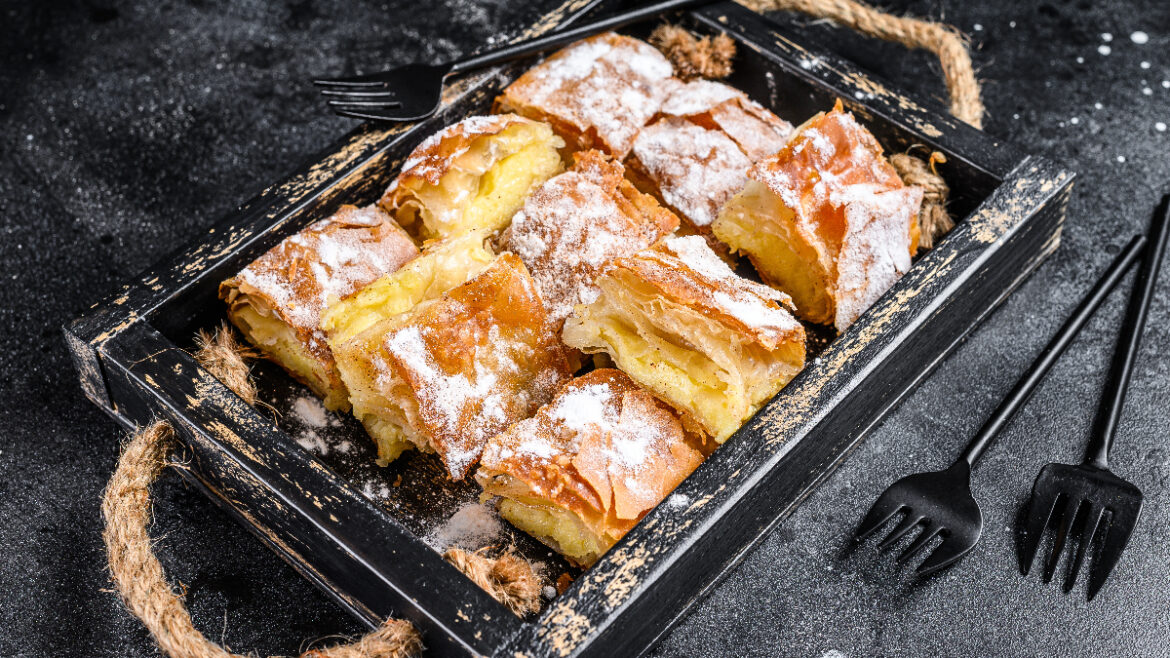 Ingredients
250mls milk

1.5 tablespoons cornflour

20g butter

150g goats cheese

150g smooth ricotta

50g feta

8 sheets Antoniou Fillo pastry (or from a local Greek bakery)

80g butter

Cinnamon to taste

Granulated sugar to taste
Instructions
1 – Mix the cornflour with a quarter cup of the milk. Ensure there are no lumps and the mix is a smooth consistency. Warm the milk slightly and then add cornflour mix to it and stir continuously until it begins to thicken. Once it has bubbled add the 20g of butter and continue to mix until it is all well combined. Turn off the heat and let it cool slightly.

2 – Combine all the three cheeses ensuring that they are all mixed well together. You may need to use your hands to incorporate.

3 – Add the cheese mix to the milk mix, stir to combine well and set aside.

4 – Melt the 80g of butter in a small pot.

For the pastry

5 – Using a pastry brush, butter the first sheet of fillo pastry. Place a second sheet on top of that and butter that also. Finally place the third sheet on top of that and butter again.

6 – With the fourth sheet, butter only half of it then fold over, butter and fold over again so that it's in a quarter and then place this in the centre of the three sheet pile. This adds an extra strong layer of insulation so that you can place the cheese mix onto it.

7 – If you prefer you can use extra virgin olive oil to brush the pastry with instead of butter. This is a personal preference.

8 – Fold the bottom half of the pastry up, then the top half of the pastry down, butter the pastry and then fold in the sides so the filling has been enveloped.

9 – Carefully lift the parcel up and place the seam side down onto a baking tray that has been lined with baking paper.

For the cooking

10 – Bake for 20-25 minutes or until golden brown, crunchy and puffy.

11 – Remove from the oven and let it rest for five minutes before cutting in the middle vertically and then cutting across horizontally three times so that you have eight pieces.

12 – Sprinkle generously with granulated sugar and cinnamon. Best served warm. Do not cut the parcels that you do not intend on serving immediately. To re-warm them they must be in one whole piece.