My spice blends draw inspiration from my awestruck treks around the picturesque city of Vancouver. This nature-filled metropolis boasts many stunning neighbourhoods, each with its own unique tale to tell. Among these captivating little areas, one stands out in particular "welcome to the enchantment of Yaletown.
Get my YALETOWN TROPHY blend for $12.00 (3.3 oz). Send me an email, text, or message on any one of my socials.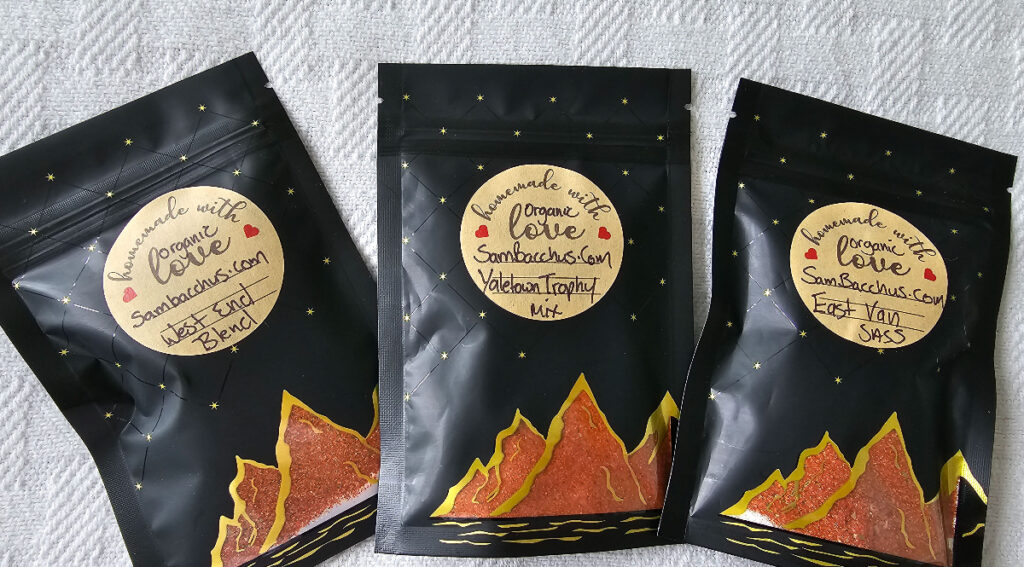 This spice minx of a mix can makeover, dress up, facelift any dish when put to the test. It is perfect for elevating the basics! This is a creation that is fragrant with herbs, sassy with spices, and touched up with a bit of sweetness. This blend is just lovely with anything from the sea.
Ingredients: Paprika, celery seeds, thyme, cayenne, black pepper, garlic, onion, coriander, cumin, cane sugar, curry, dill, mustard, Mediterranean sea salt
This spice blend was created just to complement the amazing variety of seafood in BC. From shellfish to finfish, from ocean to river, one can indulge for days and never taste the same seafood twice.
While you are here touring around, open your eyes to the many amazing cuisines to be sampled in our fair city. We have restaurants that represents almost every country – Southeast Asia, most of the countries in th EU, and quite a few South American and African restaurants as well. That is just an amuse-bouche of the great food one can enjoy in this beautiful city.
A few ways to use your blends according to thekitchen.com
Fish or meat: Speaking of fish, this is another easy way to use any spice mix. Sprinkle liberally over fish fillets, steaks, pork, or chicken before any method of cooking.
Popcorn: The first and easiest, way to enjoy almost any spice or spice mix is to dust a little on freshly-popped popcorn.
Salad dressings: I like to add spices to a level up a vinaigrette