I know, if you are here searching, you have the same addiction for Greek Roasted Potatoes as I do.
I spent years dining at various Canadian Greek restaurants in my pursuit of the best Greek roasted potatoes. They are irresistible, right?
I know, if you are here searching, you have the same addiction for Greek Roasted Potatoes.
It was not until I went to Greece on a fishing expedition that I found my most favourite Greek Roasted potatoes. Ironically, the dinner was a pork chop and potatoes dinner served up at the hotel of the owner of the local fish farms.
At the small hotel in Galaxidi city, the chef was literally whipping up trays and trays of them for the dinner crowd. Here was my one big chance to learn the secret of Greek Roasted Potatoes making.
Just a side note here, Greek Roasted potatoes are served with meat, it is more a winter's dish. On this specific day, it was a cooler evening meal. Otherwise, for most of the fishing trip we ate amazingly delicious dorado.
The simplicity of the chef's trick is priceless, which made me wonder why we go around trying to make everything more complicated than they should be.
One of my forever goals as a people, travel, food writer is to take the complex and simplify it. I know you are done reading my preamble so without further ado…enjoy.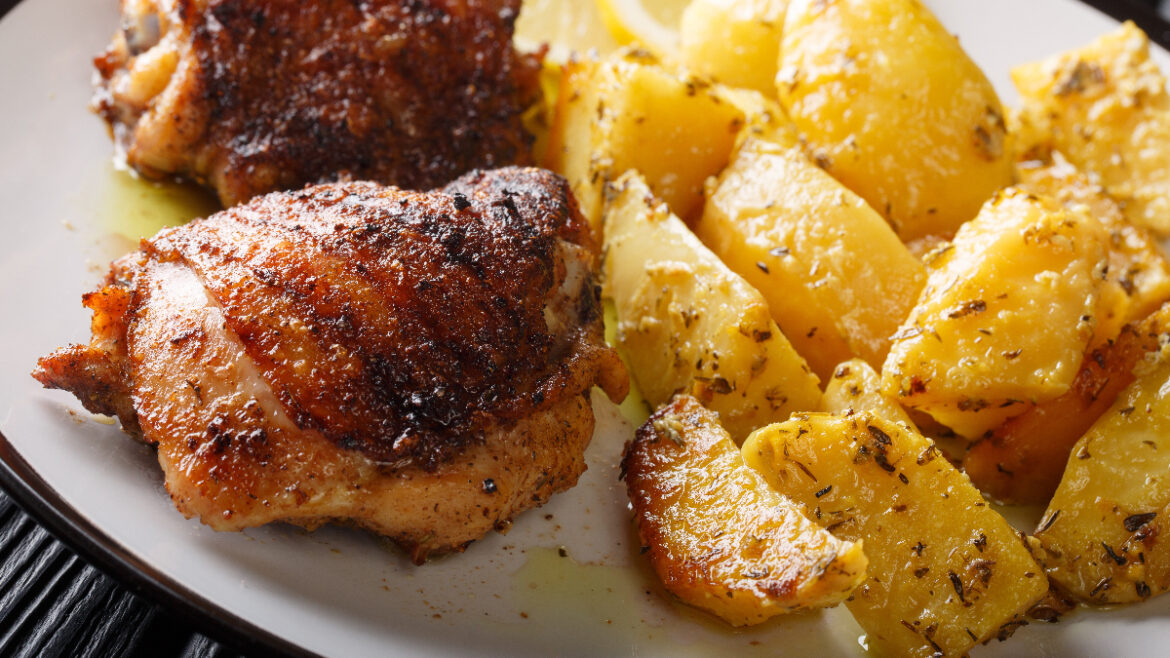 Ingredients
1 kg Russet potatoes (peeled and quartered)

¾ cup Greek Olive oil

1 tablespoon dried oregano, or ½ cup finely chopped fresh oregano

3 to 4 medium lemons (1 cup) (organic, organic, organic) fresh squeezed juice

1 medium orange (1/2 cup) (organic preferably) fresh squeezed juice

2 tablespoons mustard

1 tsp sea salt (more at the finish if needed)

Loads of black pepper

1/2 teaspoon grated rind of a lemon

1/2 teaspoon grated rind of an orange
Instructions
Toss it all together in a large roasting pan, pop the pan into the oven set at 400 degrees Celsius, roast for 1 hour until truly roasted to sticky-edges deliciousness.

For a complete meal, place seasoned pork chops on top of the potatoes before placing in the oven. Throw together a greens salad, and Opa! Dinner is served.
Notes
Turn this potato dish into complete meals by adding veggies into the potatoes and seasoned meat on top before roasting.