This Mixed Berries Gluten-Free Crumble is awesome
I usually spend so much time planning and creating menus that I invariably forget about desserts, and yet I am huge dessert fan too.
Don't forget dessert tonight when you throw your dinner party. This Mixed Berries Gluten-Free Crumble is awesome.
Desserts always end up being an afterthought at dinners and most gatherings but there is always something to create. When all else fails, put some cheese, dates, figs, prunes, fruits, and chocolate on a plate and hope for the best.
This is one of those desserts you whip up in no time at all, truly a fuss-free dessert. Always keep some frozen organic berries around for these occasions.
My pantry is never without Cup4Cup gluten-free flour by French Laundry, and butter from Fraser Valley, plus organic brown sugar is a must-have pantry item.
And of course, because I am in the spice trade I will always have the freshest spices in glass jars.
Berries are in season in summer and fall, so use fresh as much as possible, in the fall make sure to stock up by freezing batches of these delicious nutrient-packed berries.
A Mixed Berries Gluten-Free Crumble is the most satisfying dessert for anyone.
If you need a good dinner that is easy to prep and cook, and please everyone as well, then try this Fish Bake Dinner.
Eating healthy is of the most importance these days, we need to keep ourselves and our families well fed on good nutritious foods to build our immune system.
Fish dinners and berries desserts, just the words sounds lovely, like a gourmet dinner for bears:-). All joking aside, bears do well in nature, they eat healthy, sleep well and rarely get sick…
Now that is something to think about, no?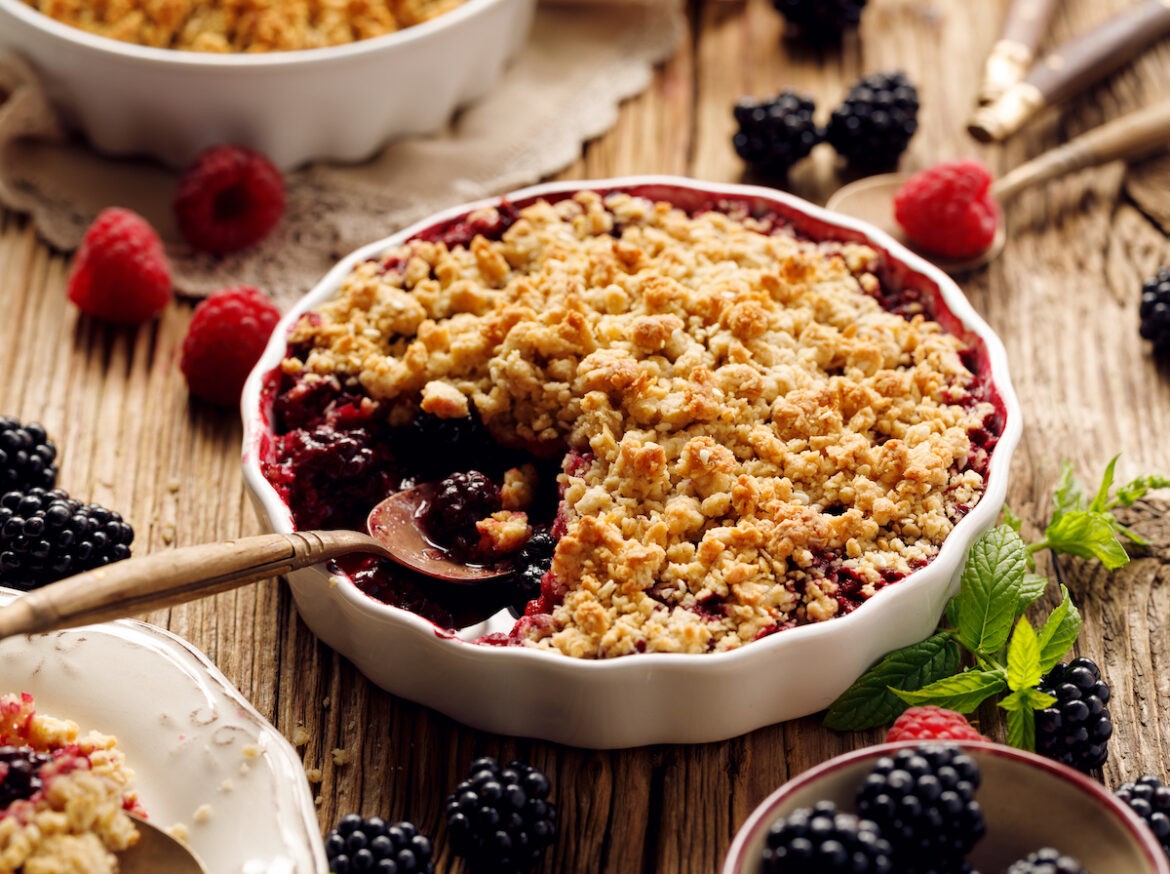 Ingredients
6 cups mixed berries, fresh or frozen

1 cup brown sugar

1 teaspoon ground cinnamon

1/4 teaspoon ground nutmeg

1/2 teaspoon salt

1 large lemon, juiced

For the Crumble:

1/3 cup butter

1 cup sugar

1/2 teaspoon cinnamon

1 cups flour

1 cup gluten-free oatmeal

1/2 teaspoon baking powder
Instructions
Preheat the oven to 400 F.

In a large bowl, toss the filling ingredients together with the berries and set aside.

In a smaller bowl, mix the butter and sugar (by hand) add the flour, oatmeal baking powder, and cinnamon and mix to a course breadcrumbs texture.

Slit the vanilla bean, scrape the seeds out and add to the topping mixture, mix well.

Bake for 30 minutes until the berries are bubbling and the topping is golden crunchy.

Serve with a scoops of ice cream, or a spoonfuls of clotted cream.